Bicycle: 33 km
Route: Otemachi - Hairdresser (in Shimokitazawa) - Shibuya - Shiba Koen - Otemachi
Total riding time: 2:27
h
Weather: cloudy, some light rain and freeeeeeezingly cold, 11 C
My Golden Week cycling in Japan started with the monthly cycling with the friends from
Tokyo NPC
. I had come from Osaka the night before to Tokyo, dropped off the work computer for a record
Golden Week
in the office and stayed the night in yet an other Toyoko Inn, very close to Tokyo Station. As I had been staying so much in Toyoko Inns (mainly business), I had enough points to pay all 3 nights with the points. And I think I still have for an other night or so.
On Saturday morning I had an appointment with my hairdresser (I know, having a hairdresser in Tokyo is somewhat impractical if living in The Netherlands..., but the one and only I tried over there left my hair feel broken for several days) and hey, having a chat with your hairdresser that knows you is also attractive.
After only a few meters from the hotel, I headed back to get an extra layer, it was cold. During the day however it would only get even colder!

The hairdresser finished his job quickly and to my full satisfaction, chat and all included, then I put my helmet on again on my freshly cut hair (he didn't take it badly) and set off to the meeting point in Shibuya.

Maybe due to the freezing temperatures or maybe it was the first day of Golden Week, we weren't a large group, but the hardcore fans all attended, including an ex-colleague of mine (the one the very right of this picture) who cycled all the way from Hiratsuka (some 60 km) to attend. Some more people joined us along the way. We were all more or less freezing on our bicycles, but yet, made it to the destination of Shiba Koen which would have been the spot for the picnic. When we arrived there, we took a quick picture and decided very quickly on seeking refuge in a restaurant to get something hot. As often before we went to a Taiwanese place close to Hamamatsucho Station.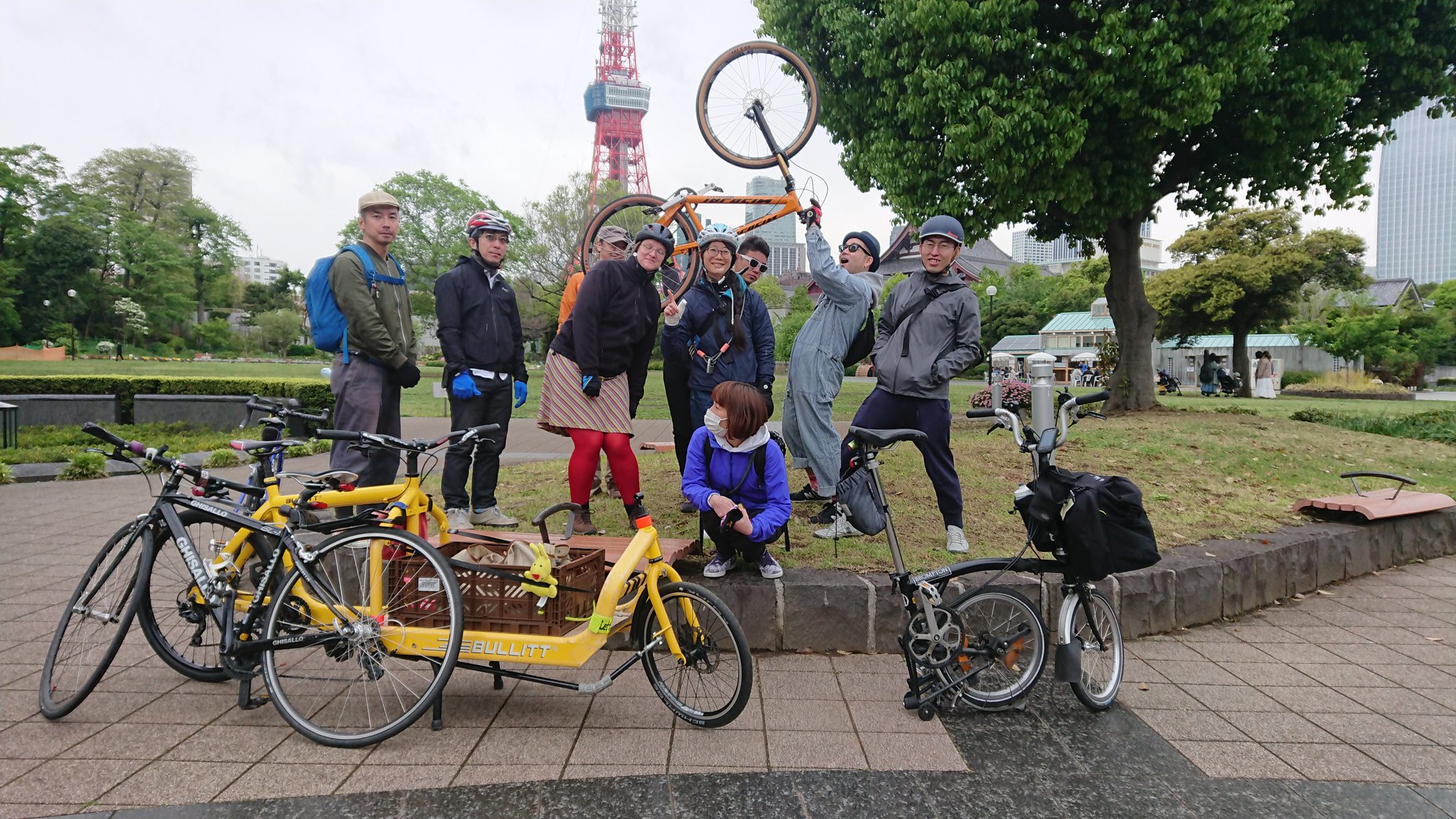 — ナイトペダルクルージング (@NPC_TDF) April 27, 2019
After filling our stomachs and warming up, the tradition dictates a hot coffee and some sweets, which we achieved at a
family restaurant,
also close to Hamamatsucho. On the way we took this picture:
Getting out of the family restaurant... and it was freezing cold again, but lucky for me it wasn't too far from there to my hotel in Otemachi. Arriving I asked at the reception, if there was any sento in the area, and although we are talking the very centre of Tokyo, there was a very traditional sento right behind the corner,
Inari Yu
. A sento were the old ladies from the neighbourhood assemble every evening to have a chat and a soak, and which brought me back to operating temperature. A ramen soup later... and I was in bed.
Ride to the hairdresser:
... and Picknick ride: